<< RETURN TO CAPT. FLIP'S MAIN PAGE
<Home> <Captain Flip Gallion> <Oceanbird Boat Tours> <Susan's Photos> <Links>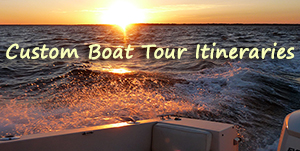 —CALL 904-753-2339—
OCEANBIRD BOAT TOURS depart from Egan's Creek Marina, 1620 North 14th Street, Fernandina Beach, FL 32034
(* see note). Departure/return times will be recommended by Capt. Flip Gallion, but can be customized to suit your desires, including sunset tours. (* Fernandina Harbor Marina, at 3 S. Front St., downtown Fernandina Beach, is under repair.)
Depending on weather & tides, at captain's call, any of the following guided tours are offered, with some flexibility:
1)
>
North along the Intracoastal Waterway
on the Amelia River to Cumberland Sound
; there we can travel a short distance East toward the Atlantic Ocean for views of Fort Clinch & Cumberland Island's southern tip; then we'll head back toward the western shoreline of Cumberland, going further North to view wild horses, historic structures, the maritime forest and wildlife. We'll return to Fernandina Harbor Marina within approximately two hours.
2)

>

West to the St. Marys River, heading into Georgia's waters; we will dock in downtown St. Marys, Georgia, at the public marina; you can eat lunch at any of several restaurants, all within walking distance, and tour some of the shops, art galleries and museums there. Length of trip may vary; requires more than two hours for lunch excursions; please inquire.
3)

>

South along the Intracoastal Waterway toward Nassau Sound; we will meander through marsh islands, watching for birds, dolphins, and perhaps some manatees along the way. This is a quiet, scenic trip, passing maritime forests and acres of spartina grasses — great for nature photography. This itinerary can be customized with additional time or alternate routes.
PLEASE SCROLL DOWN FOR RATES, MORE INFORMATION & PHOTOS!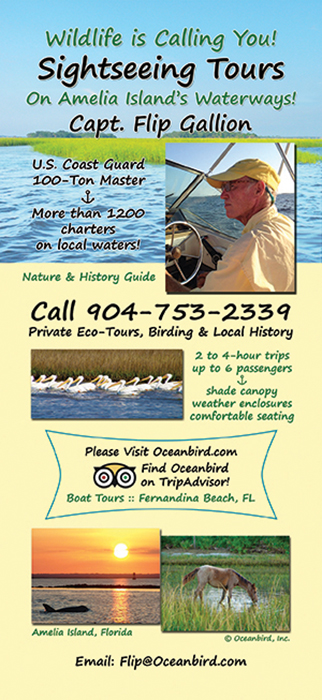 --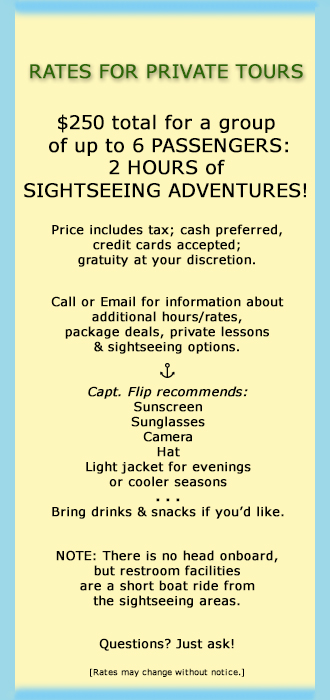 < READ a Fernandina Beach News-Leader ARTICLE ABOUT CAPT. FLIP'S TOUR >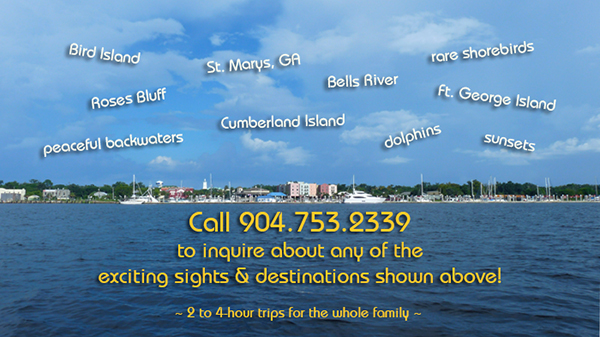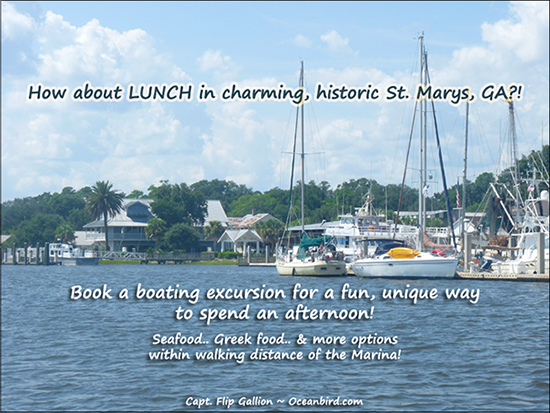 [below: Wild Horses on Cumberland Island, Georgia ~ a short boat ride from Fernandina's harbor!]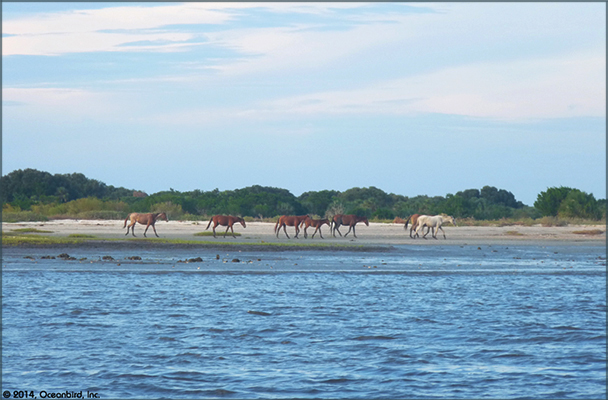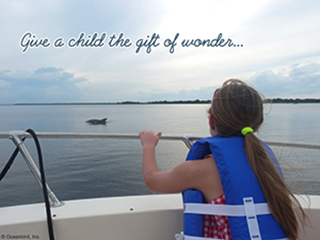 ..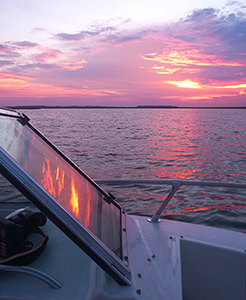 < CAPT. FLIP'S MAIN PAGE —

— EMAIL: Flip@Oceanbird.com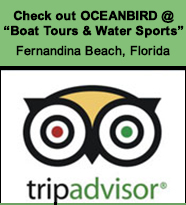 All Rights Reserved—No text, photos or artwork may be reproduced without written permission. -------© Oceanbird Incorporated